Before We Started...
The house wasn't the only thing on our minds...we still had the barns to contend with! When we opened the barn door, we were greated by our new family pet Grover the ground hog.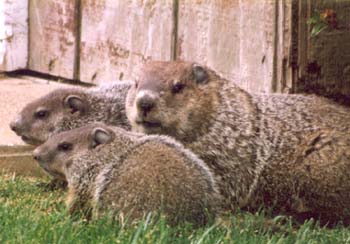 "That's the biggest rat I've ever seen," exclaimed Jennifer. "It was looking at us like a big wedge of cheese!"After the initial shock, we called the dumpster man. Too much junk, not enough room. And the Grover gets to stay!

The best barn is locted about 50 yards from the main house. That's where Grover and his family live....still! We decided after our initial shock, not to call the dumpster man....there was just too much great stuff in here. Some of it ended up in the main house (light fixtures, small chests, and pottery), however, we needed to do something with the rest of it. And that's were Ebay comes in.



We have to be perfectly honest and tell you that most of it WAS junk is is far gone (we will probably be kicking ourselves years from now...remember how we used to paint that UGLY Stickley furniture..now look at it!

Barn number 2